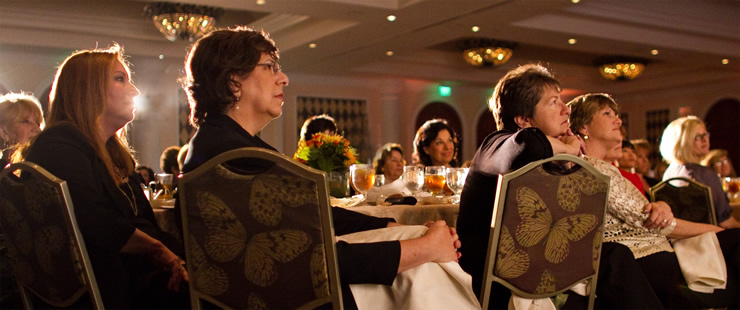 Testimonials
In Spring 2015, we had the pleasure of having Iris as our guest speaker on the Wellesley campus. This was by far our best attended lecture, and the feedback was incredible. Iris hits upon all points relevant to women of all ages – motherhood, work-family balance, building a successful marriage and making time for self-discovery. She is intelligent, powerful, passionate and hilarious. Our members were laughing, crying and wanting more!"
– Meghan Thompson
Wellesley Mothers Forum
Wellesley, MA
Last Sunday, Iris Krasnow lit up the stage of Seattle's 'Connections' – our largest annual gathering of Jewish women in the Northwest. Iris' personal stories and reflections were clever, witty and poignant. She was entertaining, yet focused our attention on Federation and the importance of giving back to the community."
– Michelle Shriki
Jewish Federation of Greater Seattle
I heard so many people say that they believed Iris was the best luncheon speaker we have ever had, and I agree with them."
– Lisa Clark
National Charity League, Houston, TX
Last Thursday, at our annual Spring Luncheon, Iris Krasnow was our speaker and as expected, what a hit!! Our audience of over 400 loved her! She was funny, moving, entertaining and a pleasure to work with. Our diverse audience of women – young, not-so-young, professionals, stay-at-home moms, etc. – were laughing and crying and hanging on her every word!"
– Jodi Heimler
UJA Federation of
Northern New Jersey
We hired Iris for our large women's event, Collage. We had about 800 women in the room, and you could hear a pin drop! She was absolutely fantastic. Women were laughing, crying and paying attention to every word. Houston loved her and recommends her to all communities, large or small."
– Meredith Segal
Jewish Federation of Greater Houston
"Iris is a soulful speaker and her passion and warmth in story telling engages the audience to listen, laugh and emote. I highly recommend Iris as a speaker!"
– Kathryn Kastan, Director
Women's Health & Advocacy Initiative
Duke University Medicine
The Capital Speakers Club of Washington D.C. hosted guest speaker, Iris Krasnow, at a recent luncheon celebrating the Club's 65th Anniversary year. Of all the speakers the Club has been privileged to host, Iris was the best!! She was funny, entertaining, and imparted great wisdom on topics that were very relatable. We all look forward to her return!

– Debra Latiolais
Capital Speakers Club Chapter President
Washington, D.C.
Our "It Takes A Woman" event recently took place at the Four Seasons Westlake Village. With almost 400 in attendance, Iris Krasnow rocked the house with anecdotal stories of her life experiences, relationships, and Jewish influences. The women adored her. She had us laughing and crying all at the same time! Not one person stirred in the middle of her address (very rare for us) and the crowd even gave her a standing ovation. In planning the event, Iris was very flexible and easy to work with. She was easily the best speaker we have had in the last five years. I absolutely recommend Iris for any women's audience!
– Alexandra Kadoche
Women's Department, The Jewish Federation
West Hills, California
Iris Krasnow was our featured speaker for Voices, our major event. Words cannot convey how wonderful Iris was. We had 600 women in attendance and she connected with every woman in the room, regardless of age. She had us laughing and crying. Every woman I spoke with after our luncheon not only said she was the best speaker we ever had, they said she was the best speaker they have ever heard."
– Eileen Garbutt
Jewish Federation & Family Services
Orange County, California
We recently had New York Times bestselling author Iris Krasnow speak at an outreach event. She was wonderful! A sellout crowd found her inspirational and entertaining and her message resonated with women of all generations."
– Ilene Fox
Jewish Federation of Sarasota-Manatee, Florida