I Am My Mother's Daughter
Making Peace with Mom – Before It's Too Late
Miramax Books
Bestselling author Iris Krasnow offers the greatest gift of all: peace. With women's life expectancy inching up past 80, adult daughters may be embroiled with their mothers well past the time their own hair turns gray. The good news: Living longer means there is more time to make peace – and Krasnow shows adult daughters how in I Am My Mother's Daughter: Making Peace with Mom – Before It's Too Late. "You can't divorce your mother, and you can't kiss and make up at her funeral," Krasnow warns.
More than 66 million boomer daughters are eager for insight into the most painful and complicated relationship in their lives. This is the first book about the mother-daughter bond expressly aimed at adult daughters from thirty-somethings to Boomers and beyond.
The key, Krasnow says, is learning to let go of the fantasy mom and embrace the flesh-and-blood woman who may hate your hair, criticize your husband, and even be confused about your place of employment. (Krasnow's own mother used to tell her friends her daughter worked at UPS — Krasnow was a longtime reporter with UPI.)
Drawing upon her own experience with her colorful 84-year-old mother and the collective wisdom of more than 100 other adult daughters, Krasnow offers a fresh perspective on how to overcome the anger, guilt and resentment that can destroy a family. She shows readers time and time again why the moment to repair the relationships with moms is now—while you still have them within reach.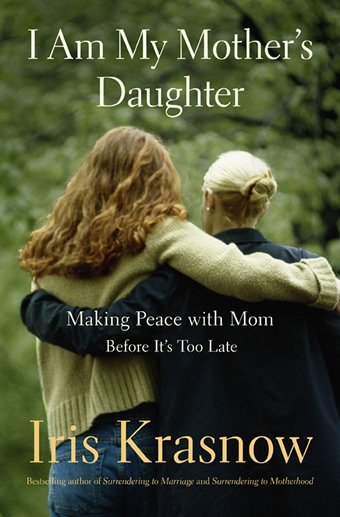 Press Reviews
Iris Krasnow's book has a lofty goal – the reconciliation of mothers and daughters. She writes with warmth, wisdom and sympathy about our eternal struggles to love and understand each other. It's comforting to know our problems are like those of other mothers and daughters and that healing is possible."
Mary Pipher, author of Reviving Ophelia and Another Country
The author has become a TV-talk favorite because of her sage advice."
Andrea Sachs, Time Magazine
Author Iris Krasnow has faithfully chronicled the female generational angst of Baby Boomers through three "Surrender" books… In her new book, she gives it up for the most important woman in any woman's life: mom."
Leslie Baldacci, Chicago Sun-Times