Surrendering To Marriage
Husbands, Wives and Other Imperfections
Miramax Books
New York Times Bestseller
Surrendering To Marriage — Husbands, Wives and Other Imperfections is a collection of brutally honest war stories from the marriage front, shocking and sexy first-person accounts of fighting, cheating, divorcing, making up and the day-to-day malaise that comes with the grind of long-term relationships.
After talking to nearly 300 husbands and wives over the course of three years, Iris Krasnow's take on marriage comes down to this: marriage can be hell, but the grass is not greener on the other side. So you may as well love the one you are with —especially if you have children. While Krasnow's baby boom generation launched the tidal wave of divorce, now she urges them to join her in the marriage preservation movement, to surrender to their imperfect marriages, instead of fleeing when the going gets tough.
Surrendering To Marriage moves far beyond a how-to manual on 25 ways to make your marriage hot again; Krasnow has written a how-to book on surrendering to the reality that even the best of marriages cause as much misery as happiness.
As she puts it: "Being married happily-ever-after doesn't guarantee that you get to be happy, and we shouldn't expect constant happiness or we'll constantly be disappointed.The straight truth about marriage is that we may loathe our partners as much as we love them; that we can feel lonely as much as loved, that marriage can be hell."
Indeed, the author shows us time and time again that the basic components of a successful marriage have little to do with bursts of bliss, and everything to do with letting go of fantasy and surrendering to the ordinary nuances of a longterm relationship, a transformation that is wholely and unexpectedly fulfilling.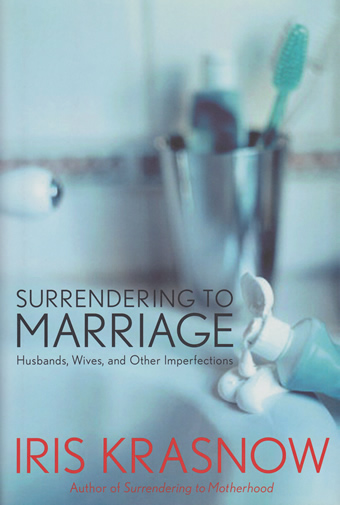 Press Reviews
"One book, The Rules for Marriage, will get a lot of attention. But the other, Surrendering To Marriage, is the one to read."
Amy Dickinson, Time Magazine
"Iris Krasnow provides an inside look into a venerable institution. This is valuable because few people openly discuss the personal aspects of their partnership."
Washington Post Book World
"Krasnow shows us that the long, gray corridors of our daily lives are in fact blessed places where we can, if we try, find our true happiness… a bracing book that gives comfort."
Vince Passaro, O The Oprah Magazine
"Reading this book will show how important true bi-partisanship is."
Sam Donaldson, ABC News
"Her anecdotes from other marriages are as engaging as any gossip could be. But this book does a serious service, too. It allows us to admit, to ourselves if not to others, that marriage, our marriage, is not a state of sustained happiness, it is not a seamless union of two people. Marriage is not perfect, but it can be perfectly adequate, and if you stop striving for more, you can settle quite happily for that."
Susan Reimer, The Baltimore Sun